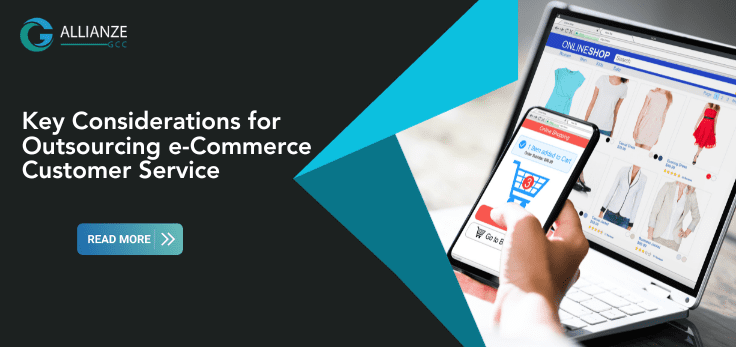 Key Considerations for Outsourcing E-commerce Customer Service
E-commerce defines the buying and selling of products over the internet. This type of business is conducted via smart devices that include tablets, mobile phones and laptops. There has been a hike in e-commerce customers nowadays and this raises the need for better customer service over E-commerce platforms.
Through this blog, you will understand issues, the advantages of outsourcing and tips to find outsourcing companies that can serve you better.
Challenges in E-commerce Customer Service
Wide Customers: Firstly, an E-commerce business does not have the limitation of time and space. So it will have a wide range of customers from different places, varied in their culture and language.
Delivery of Information: Secondly, conveying accurate information is very much important in the E-commerce business. Because, in an E-commerce business, customers do not have direct communication with the sales team as they have in a shop. And, if ever a break happens in communication it will have a bad effect on the business. Therefore, the customer service team must convey every piece of information like product features, return, cancellation policies etc to avoid issues.
Channel Variety: Thirdly, customers will be contacted via different channels like phone calls, live chat, email etc. So if the customers are contacting the team via call they have to be attended through that channel itself. For example, a customer sends an email to know the 'product price'. Then, Customer Service Executive must reply inquiry via email itself. Maintaining different channels for communication increases productivity in business.
Advantages of Outsourcing Customer Service
Saves Time: There are a lot of tasks that have to be dealt by the Customer Service Team in the E-commerce business entity. Some of them are:

Addressing the queries of customers
Maintaining separate folders for each customer
Generating priority folders out of it
Creating different folders for each channel

These tasks need a lot of time to complete. So if the company outsources its customer service it will take care of all these tasks. And thus, the in-house employees can invest their time in core activities.

Boosts Brand: If the Company hires an outsourcing company to handle its customer service, the business entity can expect good profit.It is because, if the outsourcing company is trustworthy, it will put its heart and soul to provide the best service. And, thus if the customer gets excellent service, it will aid the brand to become more popular.
Can provide support via multiple channels: Today there are a plethora of channels like email, phone calls, live chat, social media, omnichannel etc for customers to contact. An E-commerce business that can provide support via different channels can attract many customers. But managing communication in all these channels is a meticulous task.Therefore, if the E-commerce business entity seeks the help of an outsourcing company, it will manage it efficiently. And thus, the business entity can ensure a variety of choices for clients to keep in touch with them.
Saves Money: The Customer Service Department is an important section of a business, especially in E-commerce business. Every company will have a range and limit for employees and infrastructure that it can maintain. Customer Service is a team that can ensure productive results even if its employees are from an outsourcing company.So if a company outsources its customer service it can save money on maintaining an in-house team and also for infrastructure. And if they want, the business entity can even invest that money in other projects.
Access to an excellent customer support team: If a company partners with an outsourcing company, they will get assistance from a team that is specially curated for this. Each customer is different and there are some etiquettes, tips, market trends etc that customer service executives must be aware of.Outsourcing companies that provide training for the team on how to deal with the clients are common nowadays. So, by hiring such a company, the business entity can ensure access to professionals with adequate knowledge and experience.
Tips for Choosing Outsourcing Companies that Provide Top Customer Service
Data Security
Make sure you vet everything about the outsourcing company before signing the contract. You must check that they are not following robust safety measures and are following new cyber-security policies.
24/7 Support
Customer Service is a department that must provide round-the-clock support. So when you hire an outsourcing services provider, know whether they are able to handle the business while you are asleep.
Know the Budget
Before you partner with an outsourcing company, you must make an inquiry about the hidden costs. And sign the contract only if your budget falls in that otherwise, you will not get the benefit of cost-effectiveness.
Bottom Line
A 'Customers First' policy is the real factor that takes every business to success. Every customer should be addressed in the way they like. Retaining your old customers is as much as important as acquiring new customers. Excellent customer service is something that understands the real issue/demand of customers without taking much time. Therefore a company must take customer satisfaction as its goal and ensure service from the right outsourcing companies.