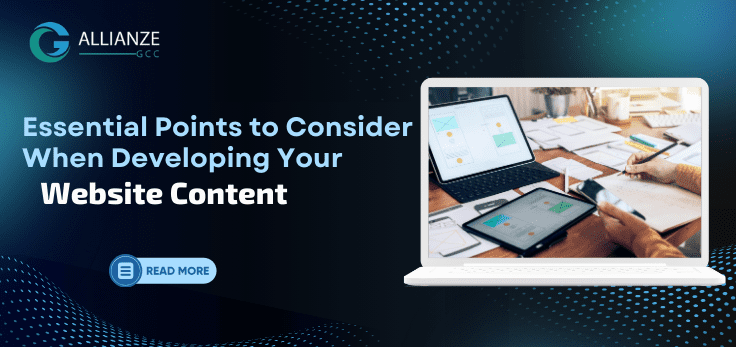 Essential Points to Consider When Developing Your Website Content
High-quality website content is an inevitable element to retain visitors and grab top rankings on search engines for a website. Anyone can develop website content, but to create effective content in a content marketing aspect, you have to undergo proper research and planning. Content is certainly a good option to communicate with your target audience.
Now let us have a deep look at various factors that will aid you to develop awesome content for your website.
Key Considerations for Developing Effective Website Content
Adopt a Conversational Tone
The tone of website content is a strong factor that aids the business to create a connection with the target audience. When you are including a tone constantly in your writing it will help to build credibility with the customers. So, use a conversational style when you are writing content for your website.
The prime intention of content of a website is to create an appetite for the products and services that you offer. So, try to create content that clearly moves on the language of your target customers and resonates with their purchase patterns. In addition to this, try creating content by sticking to active voice. The advantage of employing active voice in your content is that, it will sound more personal.
Focus on the Readability of Content
Readability is one of the main factors that attract more readers to content. When the readability is more, the readers will feel interested in your content and it will encourage them to invest more time in your content. So while developing content for your website, keep in mind that it should be easy to comprehend. Thus, even though you have the desire to include unpopular words to make your content more professional, never include them because they cannot bring more visitors to your website.
In short, write your content in simple language by avoiding confusing and misleading words to grab many visits to your website.
Promote your Content with SEO
Your content will have no value unless it reaches your target audience. Make sure that you add relevant keywords in the primary heading and subheadings. When you include apt keywords in your content, it will bring your content to the top of Google searches. Along with this, include appropriate links that will redirect your customer to the inner pages of your website. The prime goal to infuse links in your content is that, it will make your customers stay longer on your website and your website can achieve a better ranking in SERP this way.
Furthermore, you may also ensure whether your content is mobile-friendly, as this factor also helps customers to locate and utilise your content much more easily.
Add Call-To-Action Keywords
The key objective of every business is to make profits by selling products or services. Experienced digital marketing strategists can devise effective digital marketing strategies for web content to obtain maximum conversion rates. The better way to make your website visitors to your customer is by incorporating call-to-action words throughout your content. But you must make sure that you are including those words only in the suitable places in your content.
Examples of call-to-action keywords are "Click here", "Hurry Up", "Don't miss This", "Ends Soon", "Buy Now", "Subscribe", "Buy and Save"," Shop and Now", "See Pricings", "Sign Up", "Save Big", "Rush Today"
In short, make sure that your content has all those relevant CTAs that can achieve the desired results.
Eliminate Errors by Effective Rechecking
To develop good and quality content, you have to make sure that the content you post doesn't have any grammatical or spelling errors. If you don't give enough focus to these basic things your readers will leave your website instantly and they will not refer to your website for information. Furthermore, cross-check your content before posting to ensure the content doesn't have any errors.
You may use softwares like Grammarly, Ginger, ProWriting Aid to make your content free of errors.
Wrapping Up
By integrating effective content marketing to your business website you can reach your potential customers and increase conversion with much ease. Allianze GCC is a leading website content writing services provider that delivers diverse types of content at affordable prices. So if you want to bring a drastic change in your website content with our content writing services, drop a mail to [email protected]
FAQ
1) What are the essential components of good web content?
The essential components of good web content typically include the following points:
Relevance
Clarity and Coherence
Engaging and Compelling Content
Accuracy and Credibility in Content
Readability in Content
SEO Optimised Content
Visual Appeal
Call to Action (CTA)
Regular Updates
Shareable Content
2) What are the components of webpage?
Some of the most common components of a webpage include:
Page title
Header
Body
Footer
Navigation
Links
Headings
Lists
Images
Videos
Forms