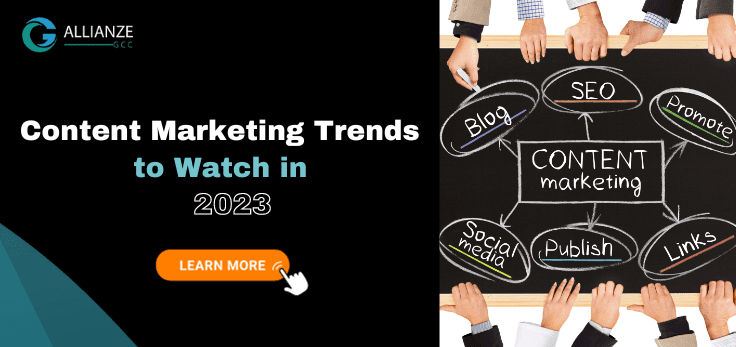 Content Marketing Trends to Watch in 2023
With new brands and marketing strategies, it's crucial that you create, maintain, audit, and revamp content regularly. With Automation and technological innovations, content marketing is revolutionising communication barriers between brands and global audiences.
To gain a competitive edge for your business, content writers must embrace the latest content marketing strategies to showcase business services and culture. Tighten your seat belts; we will dive into the content marketing trends in 2023.
Content Marketing Trends in 2023
Artificial Intelligence
AI is taking over industries, and content writing is undoubtedly one of them. There are many tools powered by artificial intelligence to enhance social media content marketing for any platform necessary. NLP or natural language processing algorithms can generate fresh content for blogging, websites, and SM platforms. These tools assist content writers to breathe in and reduce brainstorming when they deal with complex topics. Moreover, AI tools play an important role in SEO and ranking as well.
With AI content writing softwares and tools, you can literally check the quality of the articles. You can easily do blog audits, ask for recommendations, and spot improvements that can optimise ranking all by yourself. Paraphrasing tools, spin and merge tools powered by AI allow content writers to enhance presentation, language, and quality of writing styles. Smart text-generating softwares allows content writers to study topics and prepare rough content. It helps save time surfing competitor websites, and you no longer have to lean on official websites.
Voice Search Optimisation
Voice assistants such as Siri, google assistant, and Alexa have become common and widely used for both commercial and household purposes. They are far better than manually typing them to carry out the task. The pace of technological innovations impacts content writing because the content is the solid foundation of any e-commerce business. Voice searches work just like written commands on the website, and therefore engaging content is a top priority.
Users often use a full question or complete their search in length compared to manual typing. Therefore, it's vital to ensure that your website is loaded with appropriate content to appear in searches. So, bringing a conversational approach into writing techniques enhances the visibility to capture voice searches. Using Featured snippets and long tail keywords helps businesses to appear in searches. They are accurate and respond quickly to searches targeted with language and location-based search traffic.
Mobile-based Content Strategies
Mobile-first indexing and content should be a priority to optimise websites and appear in searches. Smartphone browsing time is very limited, so it's vital to ensure the content and design is mobile friendly. Crafting well-structured and transparent content works best as it grabs the eyes of smartphone users quickly. Unlike usual blogging with 750 words, content breaking and structures have a superior advantage in appearing in mobile-based searches. Use bullet points, subheadings, spacing, etc., and craft them into concise segments. It helps users easier to read and grasp the content in a single glance. Mobile-optimised designs combined with structured content can improve the traffic of your website.
Try to build your blogs with clear-cut phrases and captions. You can add website links and redirect pages that are mobile-friendly. Keep track of emerging competitors and study their movements regularly. As a result, you will be confident to test content strategies that resonate best for commercial purposes.
Shopping Content
The shoppable presentation of data gives a personalised user experience for online shoppers. B2B presentation in writing styles improves customer targeting and drives traffic to the website. The change in customer behaviour and market trends is one of the reasons why shoppable content has become trending. Commercial website content and blogging were all about stuffing keywords to rank and appear on product searches. Well, they are simply outdated. Make sure that content is well fashioned with compelling CTA's and social proofing in order to win the heart of the shoppers.
Influencer content marketing strategies allow brands to create a positive impact on fresh customers. So, It's essential to use strategies such as customer testimonials, ratings, and reviews. They help potential customers to feel confident and trust in your brand. Moreover, content writers must grasp shoppable content optimisation using relevant keywords, meta titles, image alt tags, and meta descriptions. Transparent and accurate product descriptions work best rather than bragging about the sunny side of the products.
Bottomline
Staying ahead of the curve in content writing is essential for businesses. Regardless of the quality of your UI or UX, it is futile if the content does not meet the required standards. For brands to engage with their audience, content is their voice. So it's imperative to keep up with the latest content writing techniques to forge a deeper connection with the audience.
Our experienced content writers can deliver SEO-optimised content to rank and bring an authentic voice to your product and services. Our team can build a solid foundation for an enhanced digital marketing services experience. Do send us a mail at [email protected], and let's get started.