Tips to Develop SEO-Friendly Content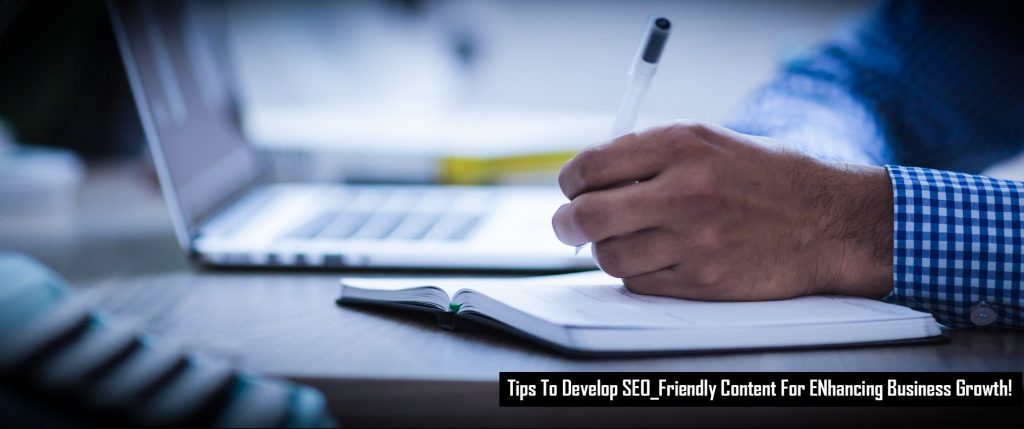 Content is perceived as the king of every website and thereon, it should be presented and formulated at its best. For accomplishing the desired outcome, optimizing the content is essential for both the users and search engines. To survive the ongoing cut-throat competition, globally settled business firms intend to outsource the content writing services.
A majority of the firms worldwide, especially in the GCC regions such as UAE, Dubai, etc. are continuously seeking a partner to meet their content writing requirements. To build the brand of your organization, a website is a necessity. And for creating a powerful website, good and SEO-friendly content seizes a significant role.
Outsourcing the content writing services isn't a new concept, but, yes, it is an affordable and effective measure.
 There has been a growing demand for web content writing service, article writing, and blog writing services in Dubai, UAE, and other prominent GCC areas.
"SEO-Rich Content – The Best and Finest Means to Stay Ahead of Your Competitors"
The foremost motive of creating SEO-friendly content is to maximize the search engine ranking, but, that doesn't mean you will stuff the article/blog with irrelevant keywords. And here comes the significant role of implementing extensive keyword research. The right utilization of well-researched keywords will enable you to establish a robust and easy connection with your target audiences. The best content writing companies in Dubai and UAE create the content and help other firms with such an intent.
Are you in pursuit of tips for developing SEO-friendly content to boost your business performance? Keep reading!
1.      Catchy Headlines – One of the prime ways to develop a great SEO-based content is to incorporate attractive and appealing headlines as well as sub-headers. Simple but striking headlines can easily win the attention of your target audience. People generally prefer content that is simple and easy to understand. And the same applies to the various search engines. Using easily comprehensible content, especially headings and sub-headers will place your business website on top of the different search engines. When it comes to web content writing services or generating a blog post, the heading is the foremost element that needs prominent consideration. The presence of sub-headings will help your customers to scan the specific page and will generate a clarity-enriching structure. The descriptive titles and sub-headers should generate a sense of excitement among the audience, so that, they will move further to the body of the content.
2.      Keyword Research – To create SEO-friendly content, performing keyword research is the basic need. Let it be website content writing service, blog writing service, or article writing service, the activity of keyword search plays a crucial role. The right set of keywords will help you to govern the search result and will bring satisfaction among your target audiences. The selection of inappropriate keywords can bring the quality of your content. The content outsourcing companies, largely, make the best use of long-tail keywords. Though it might have a low search result, it will generate a higher ranking on SERPs. Keyword research is a significant factor in developing SEO-friendly content. The long-tail keywords can boost your business conversion rate. Including the keywords in title and sub-heads are also an effective means to enhance your business growth.
3.      Image Optimization – Generating SEO-based content won't just satisfy your business needs. Well, it should be thoroughly supported by optimized images. Images can add an extra spark to your content and will make the article or web page more interesting and easily shareable. If your business website occupies attractive images along with quality-enriched and SEO filled content, the possibilities of driving maximum audiences are expanded. The process of image optimization can be achieved by incorporating the essential keywords to the image file names. It also involves optimizing the size of a photograph. If your website portrays images with larger sizes, it will result in slower loading time.
4.      Content Structuring – Before you proceed with keyword insertion, make sure that the content is structured effectively. And a content outsourcing company can be of greater help in such instances if your business does not have professional content writers. Initially, identify the purpose of creating the content. Next, segregate the ideas depending upon how easily and instantly you could create one. Once the content structuring is done, spend sufficient time in writing each paragraph or segment with complete clarity. Every content designed for a blog post or an article writing should have three major elements – introduction, body (depth of subject), and a conclusion. Each of the paragraphs should be rightly implemented with the trending and business-driving keywords.
5.      SEO-Friendly URL – URL is mandatory when you create a separate web page or post. One of the crucial SEO elements is the creation of simple, yet, attractive URLs. They will bring in more business success and will generate an excellent user-experience, enabling hassle-free content sharing. Including the top keyword in the URL will boost the visibility of that specific page and will result in easy identification. If the keyword doesn't fit in, make sure to eliminate the unnecessary or short words from the URL. With the right keywords, create a web-page related URL, thereby, radiating a simple and compelling feel.
6.      Short SEO-Friendly Paragraphs – Short paragraphs will capture the attention of readers instantly. But, do not opt for the mistake of stuffing in the keywords for the sake of making the content SEO-friendly. The paragraphs should be aligned well and should convey the matter effectively. You can also incorporate the idea of adding bullet points, font change, text highlight, and other unique formatting measures to make the content easily readable and shareable.
7.      Regular Content Updating – It is of utmost importance to keep your business content updated from time-to-time. The keyword trends might keep changing and hence you should update the existing content with the right keywords. This will enhance the reach of your website, according to the changing business needs. Publishing new blogs or articles once in a week or once in two weeks can be beneficial. The creation of fresh content with the visibility-boosting keywords can work wonders on your business.
Allianze GCC is the leading and the best content outsourcing company, functioning exclusively for our esteemed GCC clients. Generating SEO-friendly content consumes a good amount of time and effort.
 Business websites that have undergone an impeccable work on the SEO aspect generate an excellent ranking on various search engines and it also results in good backlinks. Once your website gets displayed on the top of a search engine, it is likely to obtain maximum shares, likes, and customer engagement results. Therefore, implementing SEO-friendly content can create a huge impact on your business.