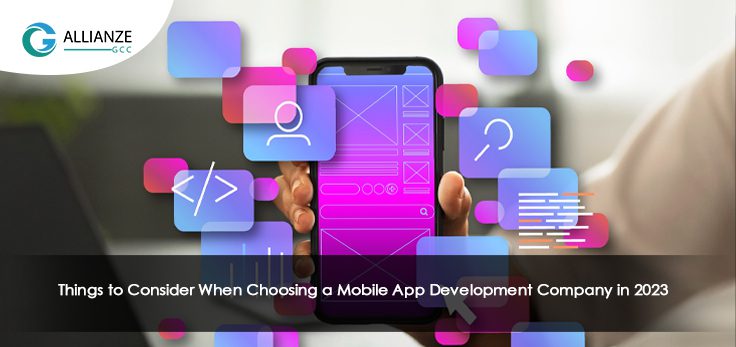 Things to Consider When Choosing a Mobile App Development Company in 2023
As technology continues to evolve, smartphones play an even more significant role in this digital era. Creative mobile applications are bringing fresh changes in our lifestyles without our consent. AI-powered Apps, virtual reality, mobile IoT, cloud applications, etc never fail to amaze us. So, having a mobile application for your brand is a must in 2023.
Here are some qualities that you should consider in expert mobile app development services before handing over the project.
Experience
Experience is one of the main factors you should look for. Building a mobile app isn't a small game. it's your responsibility to make sure that the project is in the safe hands of an expert software vendor. As we said, experienced companies will have a proven track of delivering products and happy clients all over the globe. moreover, experienced companies have a good understanding of industry trends and customer pulse with the market analysis.
Make sure that their senior management shares years of expertise in building high-performing applications where they monitor potential threats and performance in the early stages of the project. So, it's a wise option to learn and analyse the company history, previous projects, and team strength before you make the deal.
Domain Expertise
When you plan to approach a web development company, understanding their culture and researching the domain expertise can sum up both the technical and moral aspects of the company in the first glimpse. Domain expertise plays a critical role in the development and performance of the application. They make sure that proper study of needs and requirements, target audience, opportunities, technology, etc are reviewed and taken into consideration when you commit to a project.
For example, an expert development team with profound domain experience in banking and account sections can easily address potential threats related to payment processing and money transactions. So make sure that the company has experience in multiple domains and industry sectors.
Ratings and Press
Ratings and review sessions on their official website can provide valuable insights into the particular company's track record. Reviews help customers to know and measure the quality of service. Ratings and reviews provide insights into app performance and management culture. Client satisfaction can also be assessed through reviews. Positive ratings and reviews indicate that they keep professional work ethics and deliver top-quality applications that function well.
You can easily conclude that a company maintains a good relationship with the client by going through old reviews and ratings. Moreover, expert company profiles will have media or press sections on their website. Check their goals, achievements, and endorsements from other organisations.
Advanced Technology
Advanced technology and support are key components that can define the culture of an app development company. The company must have the latest applications and software, so it's important to ensure this. Get to know more about their team and what they actually do by conducting a meeting with the internal team if possible. Try to know about the programming languages and frameworks used in the mobile app development process. This knowledge can help you evaluate a company's industrial standards.so, there is no point passing your project to a company where the tech game is old-fashioned or regressive. make sure they leverage the latest trends for better user experience such as augmented reality, virtual reality, and geo-location into the application.
Support
Providing support and reliable backup to clients are things very few organisations maintain to do. Ensure the company is reliable if you're seeking help. A backup should be available in case you need assistance. Genuine companies with positive work ethics never fail to support their clients even after years.
If a user reports bugs or crashes, the support team takes action. The team addresses the issue promptly to retain users. If they're outsourcing mobile app development, it's important to make sure that the team is reliable. True professionals will help you sort out the issue rather than putting the blame on you. So, make sure that you get enough support and maintenance along with the project.
Competitive budget frames
Cost is an important factor to consider when choosing a mobile development company. you have to make sure that it comes under your budget. the cost structure varies from company to company. it's important to make sure that you're getting a fair deal. some companies charge over the average and deliver applications that don't meet your needs and requirements at all. Make sure that the mobile app development cost is not overpriced, and meets your demands.
Bottomline
The rapid rise of e-commerce and online business has led to the emergence of many software vendors. To build the mobile app to the highest standards, you should consider the factors mentioned above. Therefore, it's essential to be cautious when selecting a vendor. The right software vendor will prioritise these qualities which will help your business thrive in all aspects.
Allianze GCC, we have a team of expert developers, designers, and testers who can collaborate and deliver optimum-performance mobile apps. Our techies are enthusiastic and equipped where they make use of the latest techs in programming languages, and designing. Our team can deliver customised applications of any type ranging from gaming sectors to e-commerce enterprise applications. Do mail us at [email protected] and let's get started!