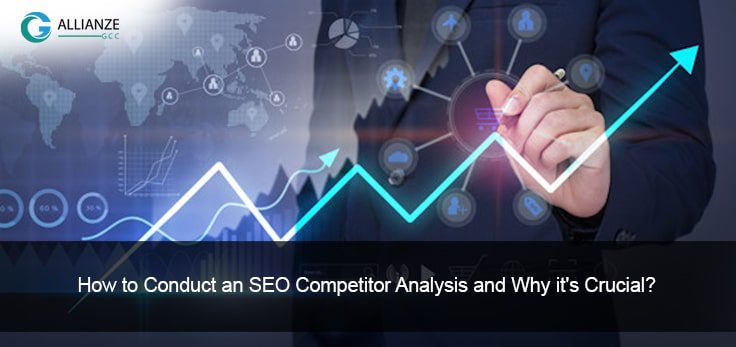 How to Conduct an SEO Competitor Analysis and Why It's Crucial?
Are you owning a website that has a top position on the Google rank? Do you want to outrank your competitor? These questions are actually pointing to the most relevant process in the digital marketing world, which is nothing but "SEO Competitor Analysis". It is the process of looking at the SEO strategies of your competitors to make your strategies more effective. If you have performed competitive research in a proper manner by understanding the SEO tips and techniques, you can yield various benefits like:
Better insight into competitor's website

Chance to devise strategies that can bring your website on the top
Explore the 7 crucial steps in SEO Competitor Analysis
The following are crucial steps that you can follow while involved in SEO Competitor Analysis:

1) Identify your real competitors
Understanding your actual competitors is the first and foremost step that you need to perform in the competitor analysis process. You may be aware of the real-world rivals but at times these may not be your SEO competitors. So in order to compete with your SEO competitors in the digital arena you need to recognise them primarily.
Based on the type of business and the industry, each business will have different competitors. So you need to undergo a thorough and accurate search to pin down the actual competitors. SEMrush, Ubersuggest, Screaming Frog etc are some of the top SEO tools that can aid you in your probe.
2) Analysis of high-performing pages
Once you have found your competitors, you can visit their websites and identify the pages that show top performance. You can apply multiple metrics like page visits, ranking positions, referring domains etc to find the performance of the page.
And after identifying top performing pages of your competitors, you can compare them with your website and make the necessary alterations to reach the top. A proper analysis of these metrics also aids in ferreting out the strengths and pain points of your competitor and devising your strategies accordingly.
3) Understanding the backlinks
The next important step is to make a study on the backlinks used by your competitor. Check what kind of backlinks they are using and also make an analysis of how they are using them. It is a notable fact that when your competitors have gained a better position in Google ranking through backlinks, you need to put much effort to outrank them.
Always try to include high-quality backlinks that can be generated from quality websites. The benefit of infusing these kinds of backlinks is that they will result in high website rank and high engagement rates.
4) Find top keywords
One of the important steps in a competitor analysis is the identification of keywords that are used by competitors. After you found the popular keywords, make a study to understand how they have been placed throughout the content.
Thus when you recognise those keywords you can use them to ensure more traffic and attain maximum leads. In short, it is a better option to outrank your competitors' websites.
4) Look at the UI/UX design
Another crucial step that comprises SEO competitor analysis is comparing the UI/UX of your competitors' websites. A website that has high responsiveness, high page speed and well-organised content is something that can drive more traffic.
That means by visiting the websites of competitors, you can build a user-friendly and visually appealing website and lower the bounce rates of your website.
5) Study the contents of competitors
If you want to catapult your website to the top of Google ranking, it is necessary that you need to explore the content of your competitors. There are multiple factors that make content SEO- friendly. Some of the factors that you need to record while visiting the websites of rivals include:
Whether contents are incorporated with images, videos and audios

How keywords are sprinkled

Type of the contents (Informative or Useful)

Length of the contents

Whether content answers popular queries
It is absolute that if you can generate quality content by strictly following the above elements your website can acquire better rankings, organic search visibility, and high traffic.
6) Check their social media presence
Nowadays most business organisations use social media platforms to boost their traffic on their website. By looking at various platforms like Instagram, Linkedin, Facebook, Twitter etc you will get a chunk of information regarding how they have been used to generate high traffic.
So, try to include those strategies in your social media pages and improve the list of your followers and website visitors.
Final Thought
We hope that this blog will be a complete guide for you while engaging in SEO competitor analysis. But if you want to reduce the strain and struggle of your in-house digital marketing team, it is better to partner with a digital marketing service provider.
Allianze GCC is a known figure that is serving this domain with its best digital marketing tactics and strategies. So if you want to avail our digital marketing services, drop a mail to [email protected]